GoPro Underwater Video Workshops!
Learn how to shoot underwater video on a week long video workshop!
Watch this video below to see what you will learn at a GoPro Video Workshop!
Underwater Video Workshop Topics
FRAME RATES AND RESOLUTION

Learn the differences in frame rates and resolutions, and when to use them to maximize your editing potential.

AMBIENT LIGHT VS VIDEO LIGHT

Learn about color loss, the difference between ambient light and video light, how to read the light conditions underwater, and learn how to use both the ambient and video light to get your best shot.

MACRO

Learn how to shoot macro with a GoPro camera with the Backscatter Macro lens.
HOW TO APPROACH MARINE LIFE

Learn how to approach marine life. Create a positive space with you and the life, get great shots, and create experiences you'll never forget.

TYPES OF SHOTS

Learn the types of shots that not only hold the viewers attention, but are also very easy to shoot and edit.

LEARN HOW TO USE THE QR CODES

Learn how to pair the codes with the type of shots to get the best results for your underwater video.
Video Ediing Tips and Tricks

Learn simple editing tricks that can enhance and streamline your post production process. Learn video output settings, composition, music choice, color correcting, editing software, bitrates, Social Media settings, and feature film options.

SHARING ON SOCIAL MEDIA

Video is in demand! We need as many underwater videos on social media as possible. You are an ambassador of the ocean. Any of your videos can become viral, and you can make an impact on the world. Learn how to structure your video to post online. Learn how to pitch your videos to viral video companies to monetize your work $$.

VIDEO LIGHTS

Learn how to maximize the potential of your video lights. Learn light positions, battery management, brightness, and balancing out your ISO with lights. Most trips will have video lights to demo.
MARINE LIFE IDENTIFICATION

Learn and identify marine life that is specific to the workshop destination. Find the life and shoot video that helps tell a story.

RED FILTERS

Learn when to use a red filter, and when not to use a red filter.

WHITE BALANCE

Learn about white balance. The color of white is constantly changing underwater. White balance underwater is one of the trickiest and most difficult subjects to understand underwater.
ISO

ISO is the sensitivity to light. Light conditions can be tricky underwater. Learn what ISO settings are best for GoPro underwater video.

LENS OPTIONS

Learn the difference between GoPro lens options and when to use what lens. Wide, Narrow, Linear, Super Wide, Horizontal Leveling all have different results.

GoPro CAMERA SETTINGS

Learn the best camera settings to optimize performance and extend battery life. Hypersmooth options, Lens, bitrate, custom settings, screen saving options, quick capture, hindsight, and many more. Every setting has an impact on your potential and performance.
BEHAVIOR

Learn to identify behavior underwater to get shots that tell a great story. This also lines up with how to approach marine life.

SHOOTING SHY LIFE

Learn how to shoot shy life with a GoPro camera. One of the many benefits of using a GoPro underwater.

NIGHT DIVING

Learn how to maximize your potential by understanding night life behavior, how to approach the life, and how to light a scene at night.
Little Cayman GoPro Video Workshop Highlights
Highlights from Belize GoPro Workshop!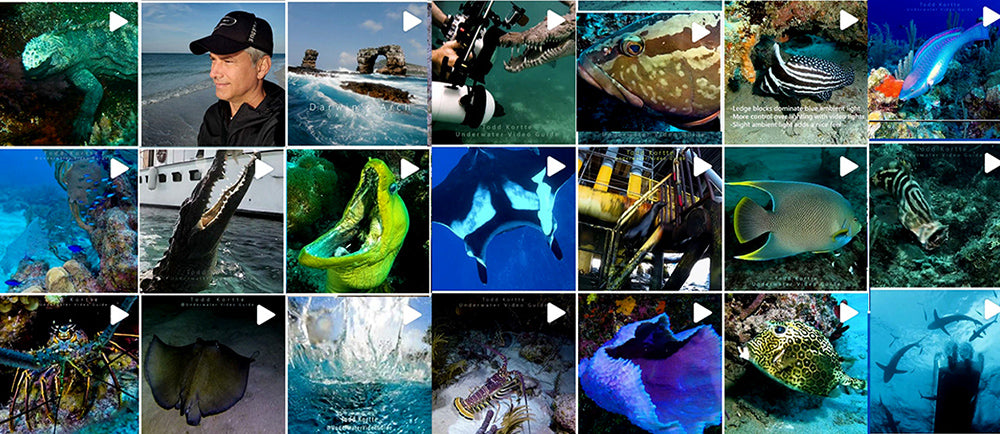 View Todd's underwater videos here.
See what type of shots have been taken with the GoPro QR codes at Todd's Oceans Unknown Instagram page at the button below.
Oceans Unknown Instagram